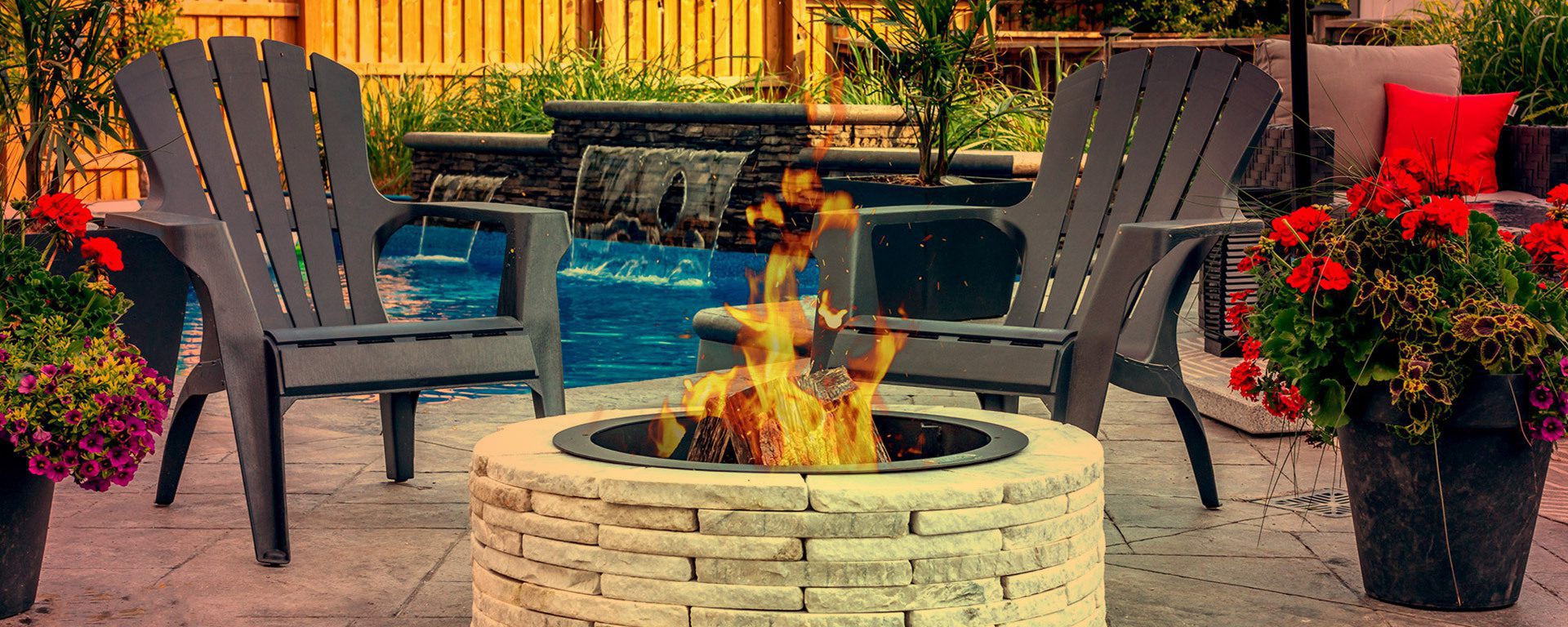 General Questions
Absolutely! Realstone uses 100% granite for all units: both base and top! The same sparkly granite used to create kitchen countertops goes into making Realstone firepits!
Yes, Realstone ships across Canada and the continental United States.
Realstone is committed to manufacturing your customized pit or table in, at most, three weeks. Please note that this does not include the amount of time it takes to ship the unit to you.
No, a Realstone unit does not have to be sealed. While granite is somewhat porous, it is not absorbent. Most spills can be easily removed with a pressure washer. However, a sealer adds a layer of protection against oily spills. By applying a coat sealer, though, you enhance or deepen the natural colour of the granite. Sealing comes down to personal preference.
Realstone uses solid granite and adds no artificial dye or colour pigments. So, fading is not a concern.
We are located in London, Ontario. A member of the Realstone team would be happy to meet with you. Please make an appointment by calling, 519- 435-6497. We look forward to sparking your creativity by walking you through all the options so you can create a unique granite pit or table that enhances your outdoor space and reflects your flare for design.
Realstone would be happy to discuss your vision for a fire pit or table. We are always looking to push the boundaries of our thinking in order to create beautiful fire features. Call us at 519-435-6497 so we can schedule a time to talk about your specific specifications.
All Realstone units are made from 100% granite. This makes them heavy to carry for the average person. So, we ship or deliver our units in pieces, making it easy not only to carry, but also to assemble. Check out our installation videos to see how easy it is to assemble a Realstone firepit and table.
It isn't mandatory to cover your unit; but, we do recommend it in order to protect your investment. Realstone units are made from solid granite, and so withstand the elements and extreme temperatures. However, if you are not using the unit for an extended period of time, we do suggest covering it to prevent unwanted debris from falling into the burner as well as preserving the steel ring from the rain.
Wood-Burning Firepits
A steel ring isn't necessary because you can use adhesive between the layers of granite to lend structural support. Realstone does, however, recommends the use of a steel ring to help maintain the structural integrity of a wood-burning pit. Plus, by dry-stacking the granite pieces around a steel ring, you can easily move the pit to a different location.
Realstone has heard from hundreds of customers that assembling a fire pit is "super easy." You don't need mortar, glue, or adhesive of any sort. All you do is dry-stack the granite pieces around a steel ring. It's that easy, super easy, as they say.
Yes, if you follow the steps in our assembly video, you'll be able to move your pit from one spot in your yard to another. Or, say, you sell your property, you'll be able to move your pit to your new home!
Natural Gas / Liquid Propane Firepits & Tables
Typically, you can enjoy a flame for an average of 8 hours when a 20" burner is on high. For larger burners, the burning time depends on the height of the flame, which you are able to control by turning the dial on the panel. Propane tanks are not included with any Realstone firepit or table.
Yes, Realstone has a partnership with independent licensed gas-fitters who are happy to install your liquid propane or natural gas firepit or table, if you live in London (Ontario) or the surrounding area. You will have to speak with the gas-fitter about the associated cost.
If the burner is uncovered, water will drain through the perimeter of the pan. Water will not drain through the burner neck or build up in the burner, it will safely drain out the bottom of the unit. All burners are constructed from outdoor-rated, durable materials.
Yes, you can! However, the burners are UL listed as a decorative gas appliance, not a cooking appliance. Make sure that combustible items do not end up in the burner as it will clog the burner ports and prevent proper operation.
In order to contain a standard 20 lb. propane tank within your pit or table, you'll need to select the "chatting" height from the customizable options. This gives you a unit with 16 layers of granite (20" high), which accommodates an 18" high standard propane tank.